Well, it's time. We leave at midnight heading for Disney. I'm almost totally packed, have all but one thing finished at work (waiting on someone else before I can finish), the iPhone is charged and ready, and all I'm needing now is a nap!
Wee One is totally bouncing off the walls at the moment, and has been jumping around and singing Disney songs for days. She's also insisting that she wants to ride Expedition Everest ("I want to see the Yeti!!!"), and if she does, I promise I'll buy the picture! She's within an inch of being tall enough barefoot, and with her princess shoes (which I know she'll wear) it puts her right at the height limit. I'm hoping they'll let her on (if she still wants to after seeing it in person), but she knows it's a possibility that they won't.
I pulled up some ride thrus on youtube the other day, and she really enjoyed watching them with me. She doesn't remember a whole lot from last time, and wasn't big enough to ride most of the rides then. It will be interesting to see how she does and what she remembers after this trip. After watching the ride thrus she still wants to ride Splash Mountain and Thunder Mountain, is still a little iffy on Haunted Mansion, and isn't going within 100 yards of Dinosaur. The ride through is what made her want to ride Everest, though, and she now can't wait for Test Track.
I made a costume for the halloween party. Cecily says she's going to have one, so I promised to have one as well. I made a tutu out of black and purple tulle, then added in silver and lime green ribbons. I also have a purple shirt with a black cat and lime green writing, and will wear them with black leggings and some black shoes. Should be different enough that you can tell I'm dressed up, but not looking like a "dirty pirate hooker" like everyone did last time. Here is the tutu, and don't worry, there will be pictures of me in it as well. ;)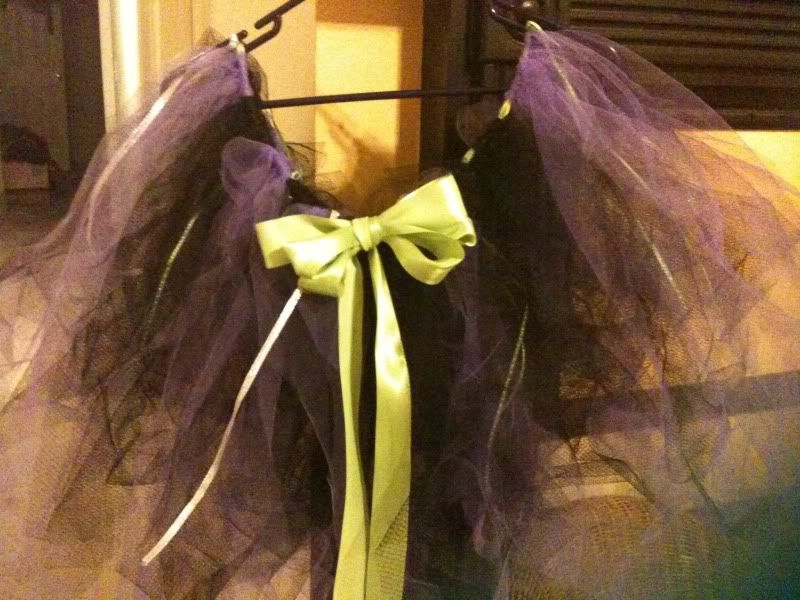 I'll try to put up some pictures either here, facebook or twitter while we're there, and I can promise there will be a ton when we get back. Just say a prayer that we make it there safely tonight and no one falls asleep while driving!
And as a bonus, Wee One as Queen Esther at church on Sunday. Have a great rest of the week!