And that place would be Disney! Cadence has been to Magic Kingdom three times in the last 3.5 years, and Amelia has already been once. And now that I'm wanting to run the Expedition Everest Challenge in May, we're discussing it again and who all will be going. I've already decided not to take Amelia, just because it's going to be such a rushed weekend. I'm not sure yet if Mike and Cadence are going to go and cheer us on, but Momma is thinking about it. If Momma goes, I'll probably at least bring Cadence, because I know she'd love it.
I'm so excited, and I know it's because whenever we go, it's always magical. Every. Single. Time. The first trip in recent history was 8 days, the next was (I think) 6 days, and then last month we did Magic Kingdom in one day, and two days at Downtown Disney. Right now Disney is doing their "Let The Memories Begin" campaign, so I thought I'd share some of my favorites - the reasons that I adore that place, and can't wait until my next trip.
September 2007 - Cadence was almost 3
While waiting on our friends at the restaurant in the Grand Floridian, Cadence was sitting at the table in her Snow White dress, coloring away. One of the waitresses walked by and commented out loud (and very excitedly) "Oh, they didn't tell us that Snow White would be visiting today!!" Cadence's head shot up, and she goes "Snow White?? Where????" The waitress looked at her and said she was Snow White. Cadence rolled her eyes and commented "I not Snow White. I Cadence!" and went right back to coloring.
When we first turned the corner on Main Street USA and Cadence got to see Cinderella's Castle for the first time. She got so excited she couldn't talk, and whispered to me "There's Cinda-elwa's Castle!!" Yes, I cried.
She loved the tea cups, and always asked for them to go faster and faster. When she saw Splash Mountain, she was SO excited, then almost started crying when she was too short and they wouldn't let her ride it.
She was able to eat with JoJo and Goliath - her most favoritest person at the time.
This is the trip that started her love of all things Princess. My friend Cathy had brought princess dresses for her daughter to wear, and let Cadence share them. She wouldn't take them off for the entire trip, and hasn't stopped since.
Bibbidi Boppidi Boutique. Oh. Em. Gee. That place is amazing, and every princess's dream!
On this trip I got to meet some awesome online friends in person. We had talked forever online, but had never met. This vacation was a first for all of us - and in the most magical place in the world, too!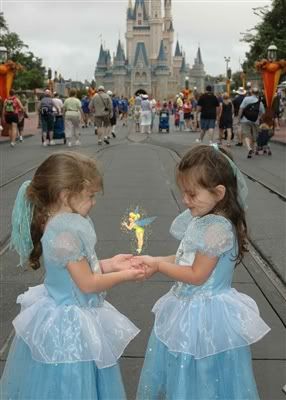 September 2009 - Cadence was almost 5
When we went to meet Mulan, we got there before she was in her spot and ready. We saw her walking by, and Cadence was SO excited. The Photopass Photographer could have easily told us "Hey, she's heading over there. Walk over there and start the line." but they didn't. Instead, Mulan walked up to Cadence, grabbed her hand, and walked her to the spot - talking to her the entire time like they had been best friends forever. It was amazing.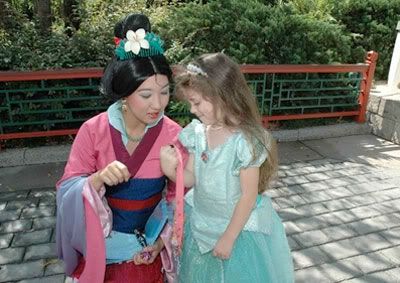 We had gotten the magic fairy wing pictures taken while waiting to see Tinkerbell, but I saw that night that Cadence's weren't on our Photopass card, but Aubren's (my cousin's girl who was with us) were. The next day, while in Hollywood Studios, I asked them to help me try and find them, and the girl spent at least half an hour trying to locate those pictures for me. We never did find them, so she made a call over to Magic Kingdom, and they made arrangements for Cadence and I to skip the line and get our picture retaken the next day when we were back over there so that both girls would have fairy wing pictures.
The stepsisters from Cinderella. They were amazing, and definitely worth the wait to see. Awesome, awesome, awesome!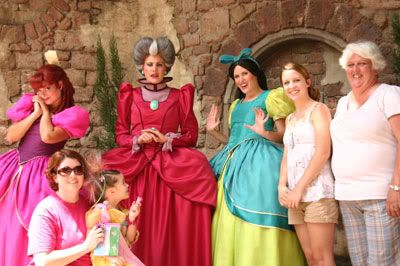 While getting dolled up at Bibbidi Boppidi Boutique, Cadence kept sticking her tongue out and being snotty. I think the Fairy Godmother In Training could tell I was getting upset with her because she leaned down and goes "Oh, no, no, no!! Princesses don't EVER stick their tongues out, because that's just rude! Instead, they do this:" and she held her hand up in front of her face so that I couldn't see her sticking out her tongue. I started laughing, and Cadence thought it was great because she was getting away with something. God bless that Fairy Godmother!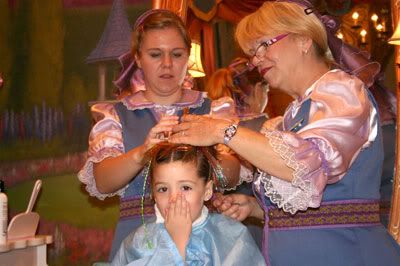 May 2011 - Cadence was 6.5, and Amelia was 7 months
At Downtown Disney, one of the Castmembers had a pin Cadence wanted to trade for. He was handing out maps to people, so made her work and hand out the maps for him so he could get the pin off. He then gave her a hard time about how she wasn't do her job correctly, and picked on her about the pins. It was all pretty funny to watch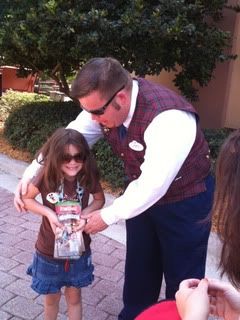 At the Christmas store at Downtown Disney, Cadence found someone with a ladybug pin. Since we call Amelia "Millie Bug" and have lots of ladybug things for her, I told Cadence we had to get that one for Amelia. The Castmember (an older man, probably old enough to be my grandfather) smiled at Cadence, too the pin off, and said "Here, you can have it! You don't owe me anything for it!" She was so excited to have the pin, and thanked him multiple times.
When we got to see Rapunzel, Cadence was thrilled to show her the Rapunzel Barbie doll she has. Rapunzel got excited, then grabbed her doll by the hair and spun her around in circles screaming "It's the BEST. DAY. EVER!!!!" At the same time, Flynn kept giving Amelia "The Smolder" (which, we discovered, she's immune to.)
And what's crazy, is I know this is just the tip of the iceberg of all the memories we have. I have loved each and every trip I've taken, and Disney does such an awesome job making every day magical. The countdown has begun for the next trip, and I can't wait to have more memories!!