I think it's impossible for me to go longer than a few weeks without some kind of project. Usually it's something cake/cupcake related, but I'll admit that I LOVE craft projects. I mean, almost live and breathe them. Since we're counting down to Disney, I've been trying to decide on outfits for the girls. I found
these awesome shirts
through my wonderful friend, Pinterest, and that page had a link to
this tutorial
(which I already had pinned...) I decided this would be the perfect way to get Cadence some cute shirts (and me, too!), especially since I can get shirts really cheap through work. Mike and I are headed out in the Jeep this weekend, so I'm experimenting with a shirt for that before I order a ton of other shirts for Disney - just in case it doesn't work.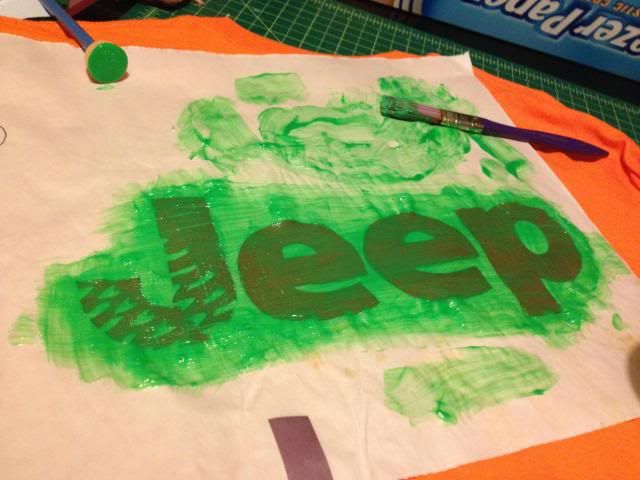 In progress...
Some things I've learned:
• The tutorial says to make sure you use the matte paint. MAKE SURE TO USE MATTE PAINT. I got the slick paint because it's all they had at Walmart when I ran in there on my lunch break. IT SUCKS! I've done a bazillion coats, and while I think it will be cute, I have no idea if it will hold up. So, listen to them. USE MATTE PAINT!!
• Have a really sharp exacto knife! Some of the little tiny areas were hard to get out because my knife wasn't as sharp as it could have been. When I do the next ones, I'm buying some new blades.
• This isn't a quick project. It's not hard, but you do a lot of waiting for paint to dry, and cutting the image out of the paper is pretty time consuming. Don't start it if you don't have time leave it out for awhile.
I think I will order a few shirts and try again with the matte paint, because I can definitely see the potential. But I'm not sure how this one will work once it actually dries. I'm keeping my fingers crossed that it works!