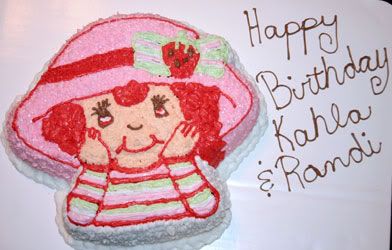 Now, I promise there is a story behind this!!

When I was about 5 (which made Kahla about 9) we had a joint Strawberry Shortcake party. I can't remember who exactly made the cake (it was either one of our moms or our grandmother), but it was old, 80's version Strawberry Shortcake, and we both still have pictures of that day. I decided that since I wanted a cake like I had when I was little, and we both wish we could be together to celebrate this year, that I would recreate our cake to give her a special birthday wish, too.

I called my grandmother to get the cake pan (Old Strawberry Shortcake, of course!) and was assured that she had it, and she would meet me with it. I met my aunt, and she handed over not Old Strawberry Shortcake, but New Strawberry Shortcake. I was more than slightly disappointed because she hold no sentimental value to me at all. However, I only had 2 days until I was making the cake, wasn't able to go home to look through my grandmother's cake pans, and couldn't find one except on ebay (which wouldn't get here in time.) Out of desperation I decided to go ahead and make New Strawberry Shortcake instead (and yes, *I* made her, icing and all. And yes again, it took me forever to get her decorated. I have a whole new respect for every family member that has ever star tipped a cake!)

So, Kahla, I know it's not quite the same, and I know we're not together and getting ready to play in the slip-n-slide, but happy birthday. I wish you would have been there to help me blow out the candles. I love you and hope your birthday was wonderful!!