Wow, what a weekend! On Friday we had a Halloween party at school, Saturday was a birthday party with my MIL then trick-or-treating that night, Sunday was a birthday party at Chuck E. Cheese with my mom, and then today, since it's her actual birthday, we brought rice krispie treats to school. It's been a non-stop sugar rush, but it's been loads of fun!

The party at school went well, and she apologized to her friend that she hit the day before. The cupcakes were a huge success, they got to dress each other up as mummies, and a fun time was had by all!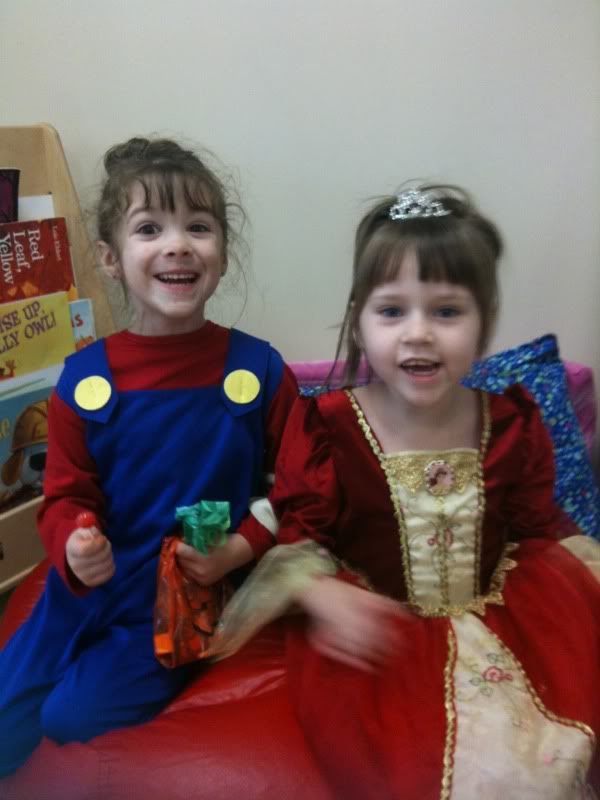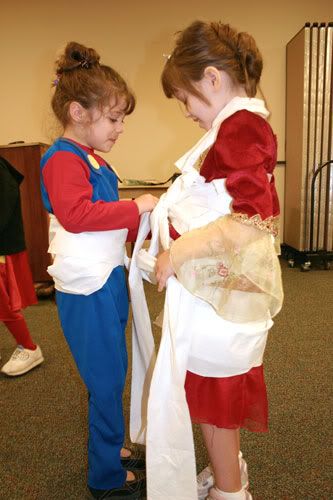 On Saturday we met at Gym of Dreams in Brookhaven and had a party with Mike's side of the family. My inlaws were there, along with Jake's girlfriend, Jessie, and her two nieces, and Mike's uncle George and his wife Sarah, and their two foster kids were there as well. She had a pink pumpkin cake, all the kids dressed up, and they LOVED playing on all the equipment in the gym. I'm pretty sure her favorite gift was the set of princess Barbies - she's played with them nonstop since she opened them.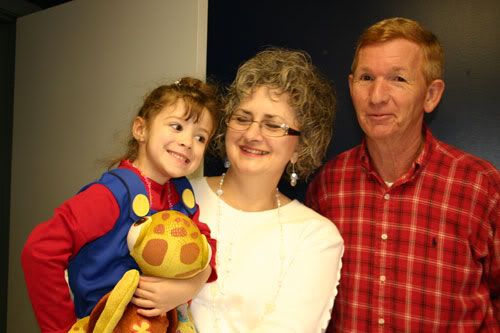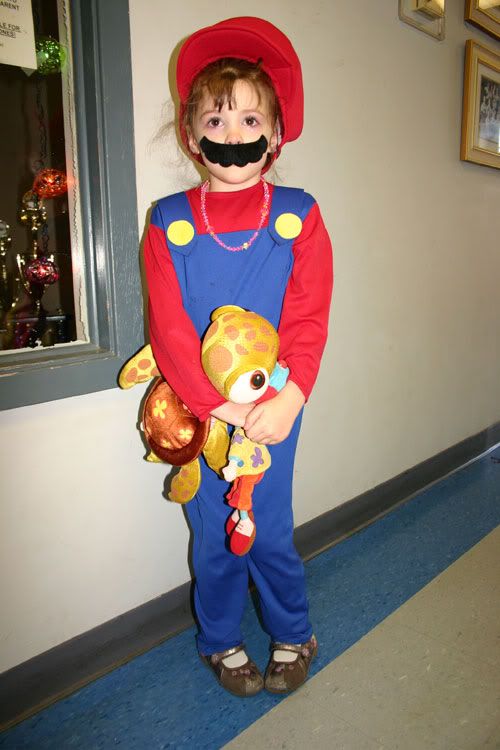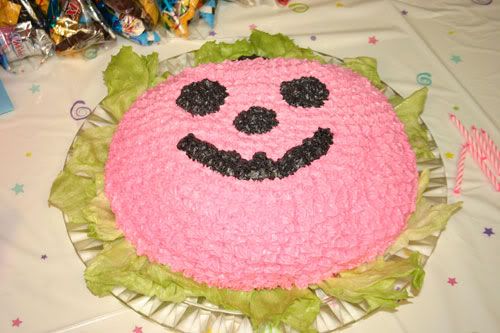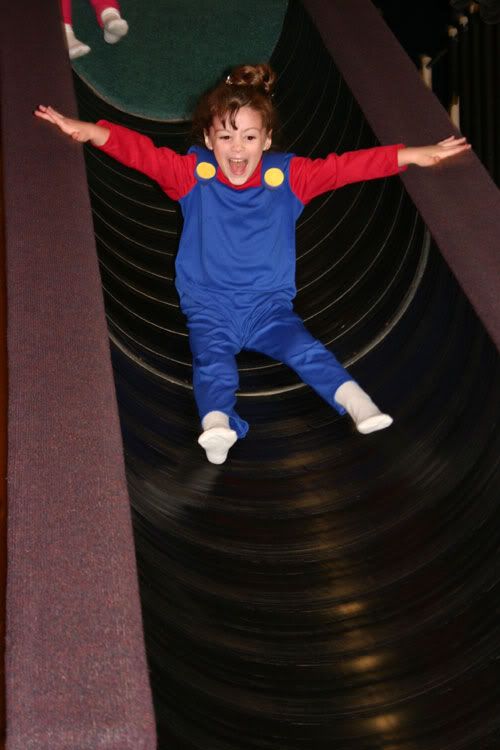 Saturday night we went trick-or-treating in Brookhaven, and I was reminded once again why I love being able to walk around my neighborhood instead of drive around the county! We had a lot of fun, though, and everyone was so glad to see her in her costume. My mother in law actually got dressed up as well, and looked better than she probably should as a hippie!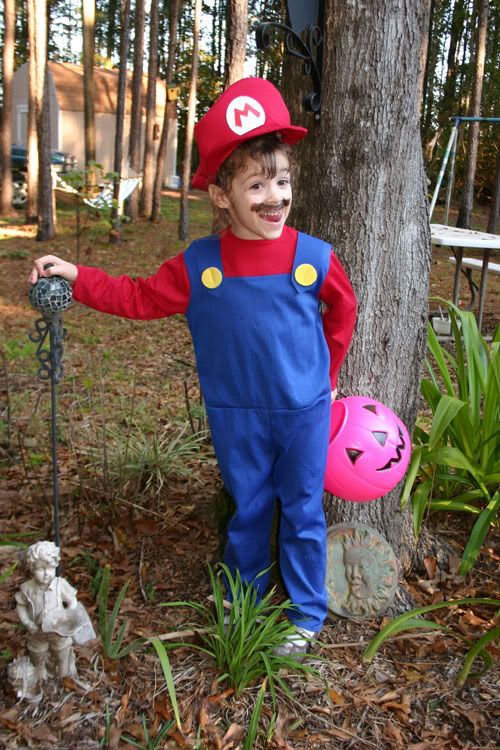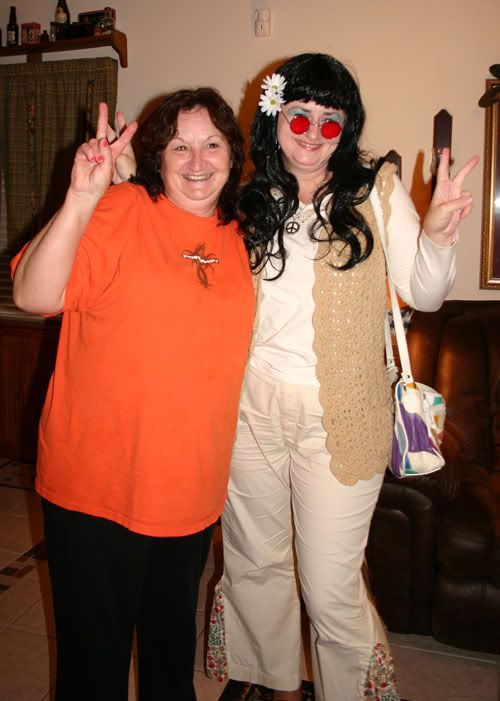 Sunday we went to Chuck E. Cheese in Hattiesburg with my mom, Sarah, Cecily, Benjy and met Jen, Jay, Aubbie, Breann and Josh there as well. It was SO much fun, and we ended up with a ton of tickets. The cake came out ok - we left it in the Jeep so it started melting. I wish I would have taken a picture of the back of it, because the rock was sliding back into the ocean! It was very cute, though, and Cadence loved it. She and Aubbie rode this rollercoaster ride over and over, and I was getting pretty good at the skee ball. I'm now excited to go back!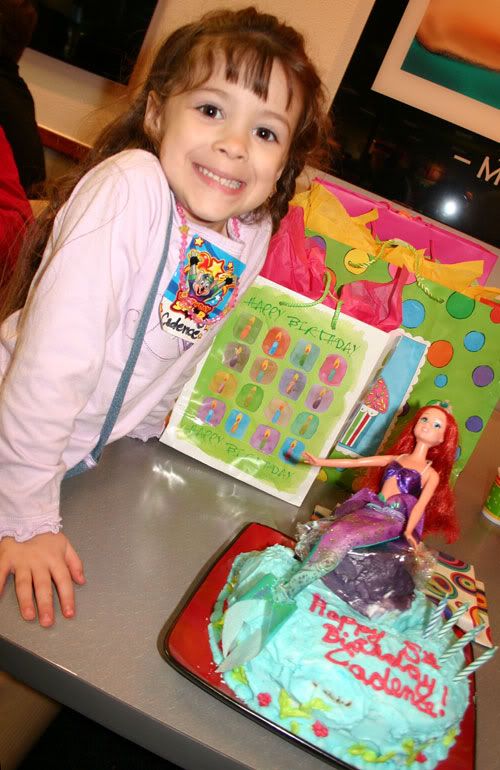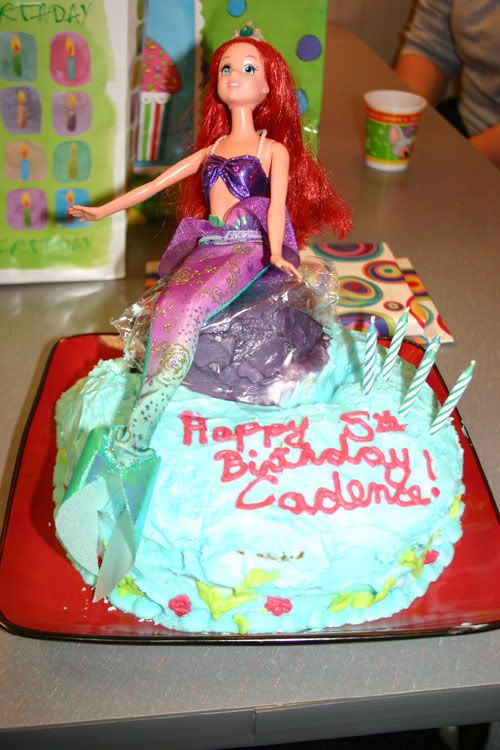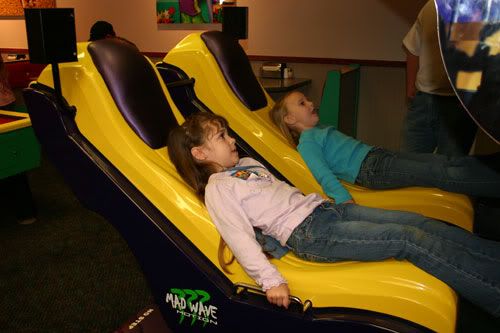 She looked so pretty today, and has been telling everyone she sees that it's her birthday and now she's FIVE!! And yesterday she was just 4, but now she's FIVE!!! She's so cute telling everyone, and told me last night that next she'll be 6, then 7, 8, 9, then TEN!! I told her we didn't need to talk about that right now, and 5 was plenty old for now.