I'm so excited, because tonight Mike, my two sisters, one sister's boyfriend, and I get to go see Alice in Wonderland in 3D!! Cadence was a little disappointed that she's not getting to go as well, but I'm worried that it's going to be a little too scary for her. My mom is coming up with them to watch her for us, and I promised her that I would take her to see it this weekend if Mike and I didn't think it would scare her too much. I love Tim Burton, and LOVE Johnny Depp, so I'm ready to see if this lives up to my expectations.
We also have plans to go see How To Train Your Dragon in a few weeks. Mike promised Cadence he would take her to see it (I think he's more excited than she is!) and she agreed that I could go with them. Mike wants to see Clash of the Titans in 3D as well, so March might end up being a movie watching month!
******************
My grandfather starts treatments next week. He'll go for three weeks, then have some time off. After this first round of treatments, they'll reevaluate him, and (hopefully) give us more info after that. Please keep praying for him, and that the treatments go well. I'll post whenever I know something else.
Also, I have a cousin that's trying to get a divorce at the moment. She has two small children, and I have a feeling that her soon-to-be-ex isn't going to keep this civil - even in front of the kids. She's staying with family at the moment, and making a super long drive every day, just to stay away from him. She even told me yesterday that she's having to take precautions to keep him from trying to take the car, and she refuses to go to the house by herself if he's there. Please keep her and the kids in your prayers as well. I'm worried about her, but scared that he's going to convince her to come back like he's done in the past.
******************
And to end on a happy note, we saw daffodils today!! It's beautiful outside right now - 61 and sunny - and I can't wait for Spring to officially be here. Plus, we have daffodils that are about to bloom at the house, and I know Cadence will flip when it finally happens! Come on babies, bloom!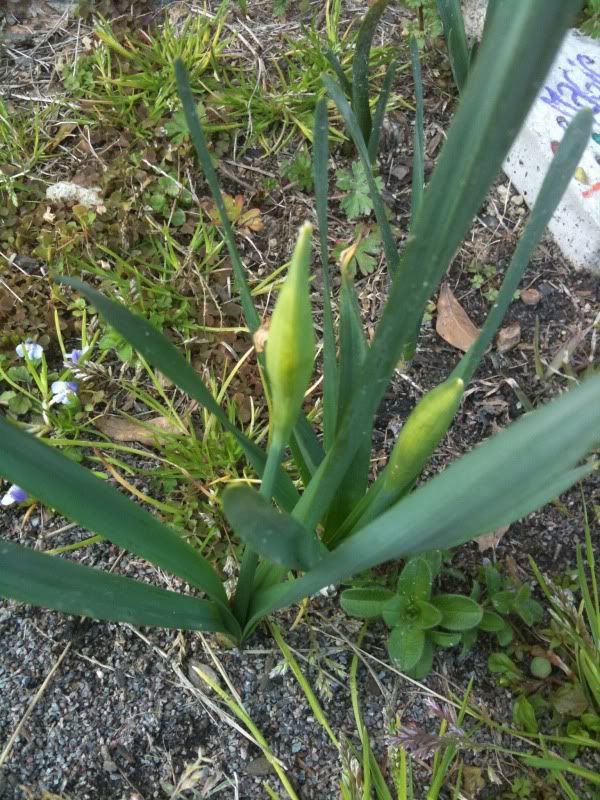 __________________________
Things I'm thankful for:
1) Mike
2) My health
3) A night out!
4) Family that loves to babysit
5) Daffodils