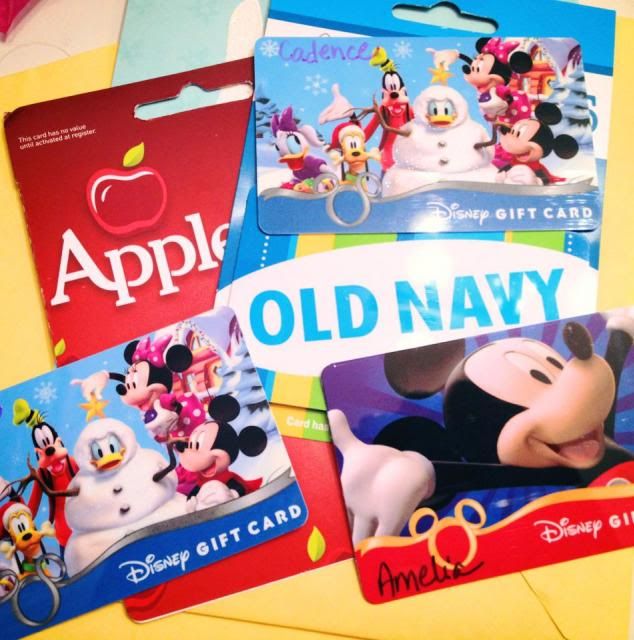 This whole trip started because my mom mentioned that she spends tons of money on us for Christmas each year, and she would love to just give us the money and us use it for a family vacation instead. I was over the moon to hear that, then decided to use some money from leaving my old job and pay the entire thing off since we decided to go in September instead of waiting until October like originally planned. She had mentioned that she may make me a "travel kit" for my birthday/christmas instead, and also mentioned clothes. Then, a few days ago she offered to pay for the non-disney hotel we're staying in the first night (which is now booked and will be awesome!), then called today and said she had stuff for us and wanted to bring it up. She showed up with a gift card to Applebee's (the hotel has one attached where kids eat free, and we were already planning to have at least one meal there. The gift card should cover the entire thing), money for the "resort fee" the hotel will charge, an Old Navy gift card for me to get clothes before we go (all my clothes are too big since having Maddie), and a $25 Disney gift card for each girl (we were only planning on giving them $50 each for spending money, so this is half of that!!) We are so incredibly blessed, and I'm so so thankful.
Mike also took me shopping the other day (again, the whole "lost all the baby weight" thing), and I got two new pair of jeans, a pair of capris, crocs ballet flats, and some other "unmentionables" that I needed. I'm loving all my new stuff, and the best part was that all my jeans were the same size I bought before I was pregnant with Cadence! I also used the gift card tonight (yes, I had it a total of 3ish hours before it was spent!) and got two new pairs of shorts and a cute Mickey shirt for the trip. Mike rolled his eyes when I showed him the shirt, but whatever. I don't care. I love it and can't wait for it to arrive!
And I think I'm going to start counting down with the girls tomorrow. I saw
this blog
that had ideas on how to countdown to Disney in an "Elf on the Shelf" way, only they used Minnie Mouse. We have the same Minnie in red and the black and white version, and since tomorrow makes 35 days out, I thought I'd start then. I don't know that I'll be able to do it every day (and am in awe that she kept it up for 100 days!), but I'm definitely going to try! I'll try to get a picture every day that I remember!