It's been a crazy few days around here. We got the spice "sprinkle" rack finished (see last post), and I think my private little corner of the world has had more visitors in the last few days than it's had the whole time it's existed. I'm not quite sure how I feel about that. I've also learned that people can be total asses when they can be completely anonymous on the internet (hence the reason you now have to log in to comment.) I received a few rude, unnecessary comments that I'm sure the person posting them wouldn't have said to a total stranger's face, but for some reason it's completely okay to do it safely hidden behind a computer screen, and I realized something while trying to come up with suitable responses to them. This is MY blog; MY little corner of the world, not theirs. I don't have to defend or explain myself to anyone! It doesn't matter if the content isn't earth shattering, or is downright boring, it's important to me. I guess since no one but family and a few close friends has checked in here until now, I never really thought about it. It was quite an eye opening experience.

In state news, it seems that the current answer to "Does Mississippi even have running water??" is NO. Because of the crazy weather we've been having (windchill of 8. Get that? EIGHT!!! In MISSISSIPPI!!), the City of Jackson had somewhere around 80 breaks in water lines. The capitol and all state offices have been closed since Monday afternoon, all schools in Jackson, Byram and Terry have been out, and the preschool Cadence goes to hasn't had class. Unfortunately, I've still had to be at work, but the water pressure is REALLY low, and there are signs on all the water fountains telling us that we can't drink the water. It's been crazy around work the last few days, but at least the traffic while going in is light!

Because of school being out, Cadence had to go to work with me until lunch today. She had been telling me her stomach hurt, but it started once it was getting time for her to go to the babysitters. I thought part of it was a put on, just to stay with me. However, on the way there, she threw up in the car. Three times. In a span of about 5 seconds. And to make it even worse, we were stuck at a red light about a mile from the house, and there were cars all around. I felt so bad because she had to ride with it all over her until we got home, but I couldn't pull over because I didn't have anywhere to stop or anything to clean her up with. I put her straight in the tub when we got home, and she told me that she felt better and was "overjoyed. Which is a fancy word for really happy!" (yes, we DO read too many Fancy Nancy books. Why do you ask?) Apparently she wasn't overjoyed enough, because she threw up quite a few more times before the afternoon was over. She's finally stopped, but now has fever, and it looks like I'll be home with her again tomorrow.

Tonight I had to go back to work after Mike got home, because there were a few things that had to get finished - like the Sunday bulletin! I was there from 4:45 to about 9:00, and was able to get most of my work done. Stacey was there with me, and I just love her. I was shocked when I first started and found out she's over 10 years older than I am, but I think we work together well. Our sense of humor is the same, we both love SEC football, and neither one of us can stand stupid people. I normally don't get to spend more than 2-3 hours with her, and we're usually crazy busy the entire time. It was nice to spend close to 4 with her tonight and talk some. She also has a meeting with our new boss tomorrow, and is going to bring up hiring another person to help us. We're SO overwhelmed, and really need at least a part-time person to come in. I'm so thankful for the job, but never knew that a church would have quite this much work for me. Keep your fingers crossed that they get us some help, or I may be posting this from a pretty white room soon!

And to end this long rambly post, Cadence is now fascinated with anything having to do with New Orleans or Mardi Gras since seeing The Princess and the Frog (twice.) She convinced me to buy a cheap, grocery store king cake the other day (and now I want a real one!), is actually trying jambalaya and gumbo because it's stuff Tiana would make, and loves, loves, loves Mardi Gras masks. We got a little carried away in the store trying them on, but I have a feeling a few will be appearing at the house before Fat Tuesday actually gets here!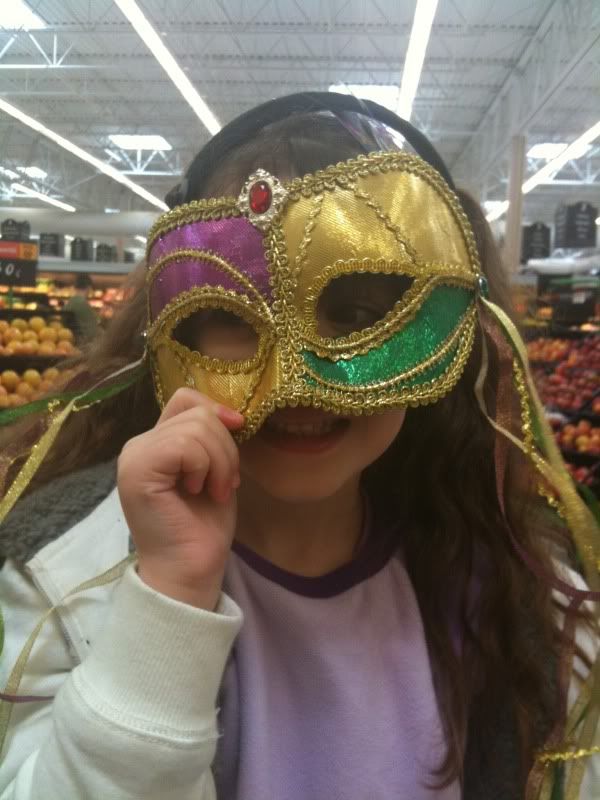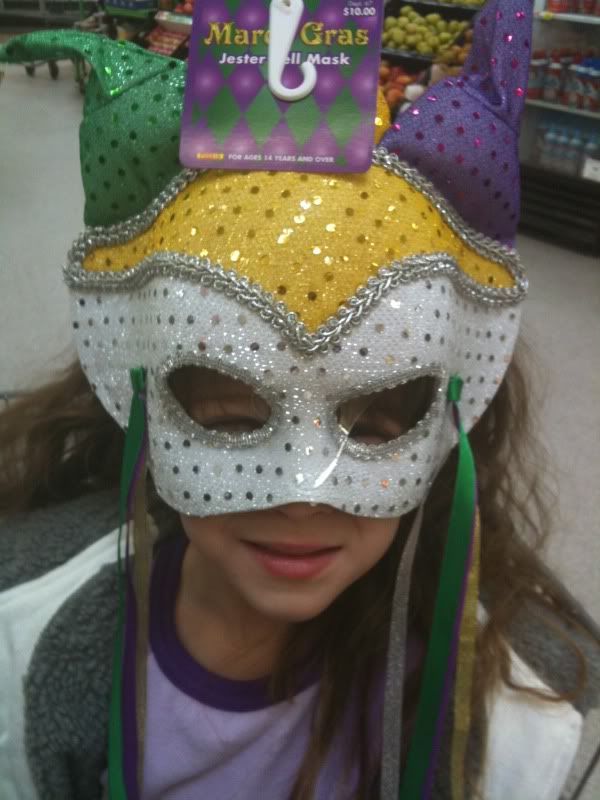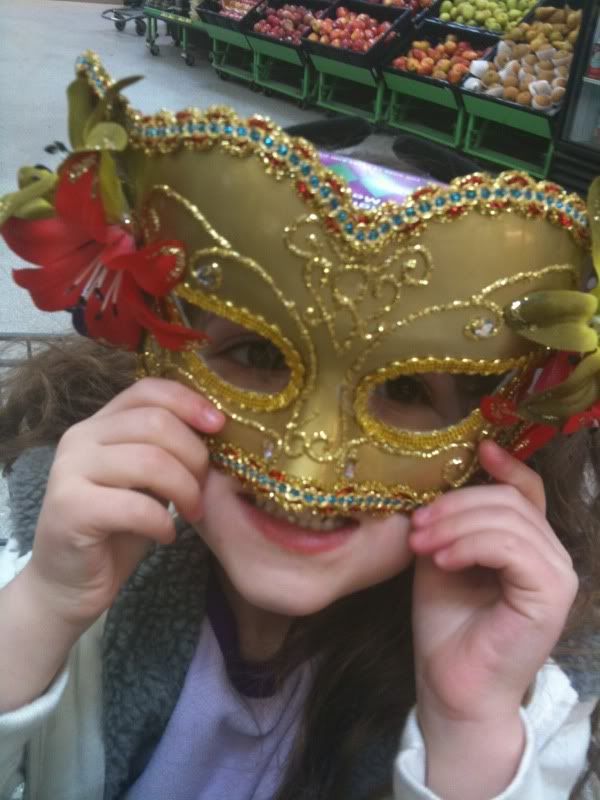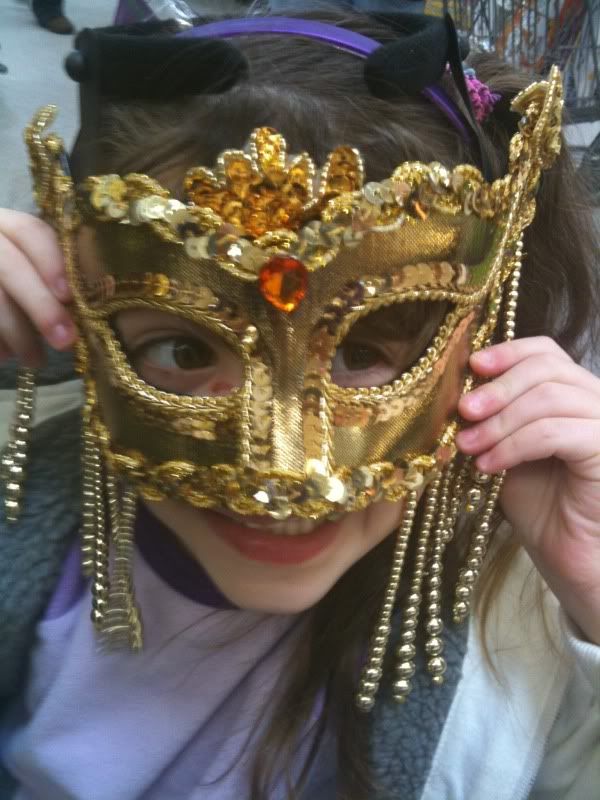 And my favorite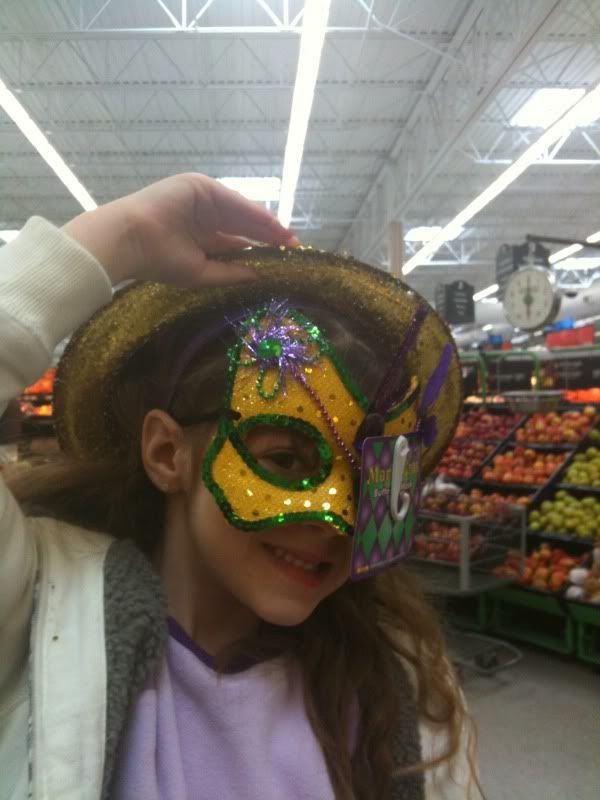 We have some friends in Louisiana that are going to try and get me the dates for the parades through their town, so we might try to take her to one. I know she'd have a blast!

Please keep your fingers crossed that the meeting goes well tomorrow, and that Cadence is finally feeling better!

I'm thankful for:

1) A healthy little girl. I know things could be so much worse than throwing up and a little fever. Overall, this really isn't bad.

2) So much work that it guarantees job security.

3) Mike. He watched Cadence so I could go back to work, didn't call 45 times to see if I was done yet, and had the kitchen cleaned when I got home. I just love him.

4) I get to sleep late in the morning

5) That the water pipes should be fixed soon and we'll have enough water pressure to flush toilets at work again.