I found
this
post at
Bakerella
over a year ago, and since then I've been determined to do this myself. There are a few problems, though.
I have a very tiny kitchen, and not enough wall space for a traditional spice rack
I have limited counter space, so a counter spice rack is out as well. (and besides, most of them are positioned so that you can't really see what's in the bottles, which kinda defeats the purpose of this project.)
Even if I did happen to find room for a traditional spice rack, most of them only hold 12 or 15 bottles. And I have WAY more sprinkles than that!
While looking online for spice racks, I came across this:
A Magnetic Spic Rack

(image from www.silvernutmeg.com)
This would be absolutely perfect for my really tiny kitchen! However, the cheapest one I could find that would hold enough sprinkles was $130. Yes, that's right. One hundred thirty dollars! I am very cheap, broke and have a child, so the idea of spending that much on a spice rack is pretty much inconceivable. However, I am fairly crafty, so I decided to make one myself. I found a tutorial
here
, and set to work finding the supplies.
Here's what you need:

1 piece of 26 gauge metal in the size you want (mine was 12x24 inches and I bought it at Lowe's)

Magnets - 1 for each case (I used 1 inch size from Lowe's, they come 6 to a pack)

Super glue

4 screws and a drill that will go through the metal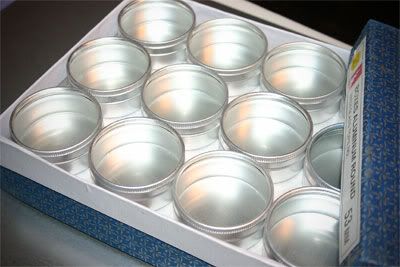 First, when the cases arrived, I took them out and took the lids off off all of them. I found out that some of the lids fit better if you turn them slightly, so I tested them all to make sure I wouldn't have sprinkles everywhere.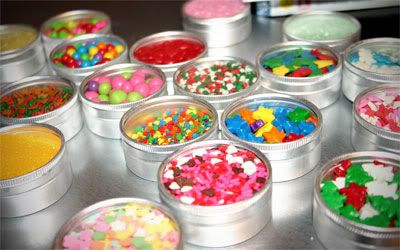 Next I let Cadence help me fill them with sprinkles and put the lids back on. The one downside is that these containers don't hold nearly as many sprinkles as a bottle would, but that's a trade off I was willing to make because of space issues. You probably should do this *after* you get the magnets on, but I wanted to make sure the magnets would be strong enough to hold them. The first pack I bought wasn't, and I had to return them. Also, since the magnets are smaller than the containers, I didn't want to risk them tipping when I filled them.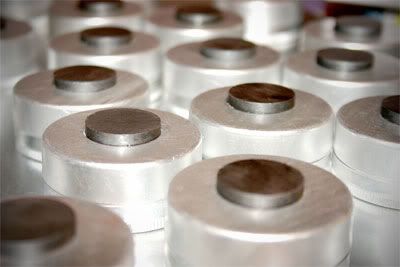 After they are all filled and the lids are securely on, flip them over and superglue a magnet to each one. Be careful, though. I ended up with almost as much glue on me as I did on the magnets, but it held them really well once it dried.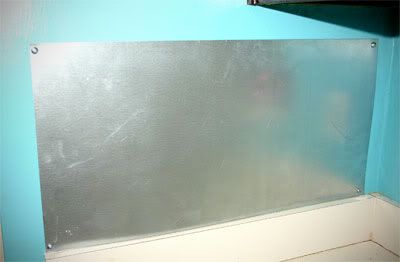 Next, Mike got his drill and we drilled holes through the metal into the wall. After the four holes were drilled, we took the metal down and put anchors in, then screwed the metal into the anchors. Just be REALLY careful drilling the holes. The metal slipped slightly while we were doing it, and now there's a slight buckle in the metal (kinda like when you hang a poster slightly crooked. It's just not quite lining up.) It's not noticeable, though, so I left it.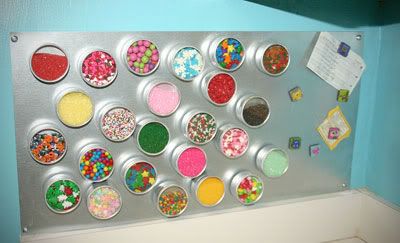 After the metal is screwed in, attach the containers! I filled all 24, and still have a few sprinkles I didn't use. I'll probably order a few more (the size metal I got will hold close to 50 if you line them up right), but for now I added a few magnets and some recipes to fill in the rest of the space. I'm SO happy with how it came out!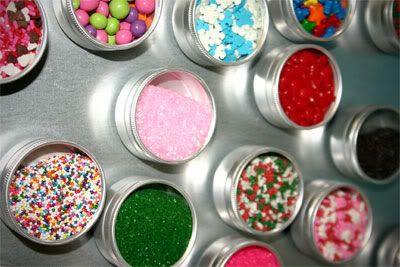 A close up of some of the sprinkles. So pretty!
Total cost:
Metal - $6
Watchmaker cases - $12
Magnets - $8
Super glue - $1.50
Total - $27.50
Much cheaper than the one offline, and it holds more as well!