Mike and I saw this recipe on an episode of Tyler's Ultimate on Food Network, and he made it look SO simple. It looked amazing when he was finished, and I figured it would be a great project for Adventures in Cooking, mainly because it has ingredients (artichokes and zucchini) that we don't normally eat, and I've never cooked with. Here's his recipe, from the Food Network site:
Quick Farmer's Market Pasta

I went grocery shopping today, and managed to get all the ingredients but the basil (skipped it because the budget was so tight this week, and he has it more as a garnish. Bad move.) I also went with the jarred artichoke hearts, because 1) chopping artichokes scares me, and 2) the jarred ones were cheaper.
I pulled out the new iron skillet I received for Christmas (I love this thing!) and started the tomatoes cooking.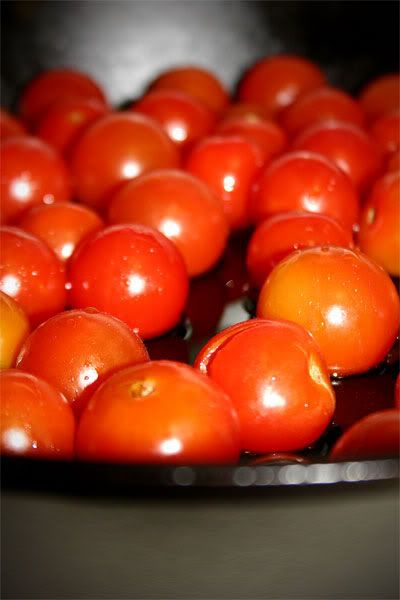 They smelled SO good once they started heating up, and I think I might be addicted to making sauce with real tomatoes instead of canned ones!
While that was going, I cooked the sausage, chopped and cooked the zucchini and cooked the artichoke hearts. Again, this was my first time cooking with zucchini or artichokes, and I can probably count on one hand the number of dishes I've had with either one.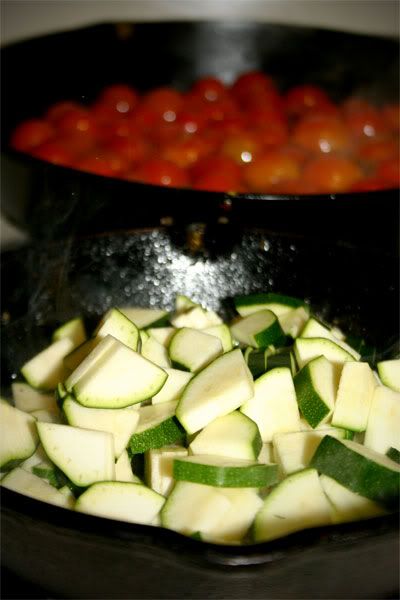 When everything was finished cooking, I combined it all, and served with the cheese on top. It looked SO much prettier when Tyler Florence did it, but his kitchen couldn't have smelled any better!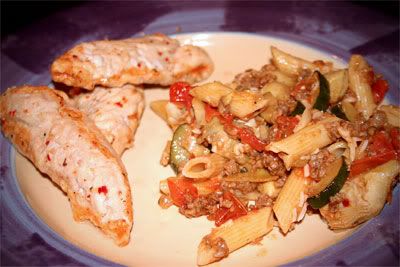 Mike, who isn't a huge vegetable fan, and who I was sure would hate it, actually thought it was pretty good. However, we both agreed that there was *something* missing. I finally narrowed it down to something with the tomato portion of the sauce, but couldn't quite put my finger on the missing ingredient. After dinner I went back through the recipe and figured out what it was. I had totally forgotten to put in the garlic. I had bought it - actual cloves even! I was so excited because I was going to do the whole hit-it-with-a-knife-on-the-cutting-board-and-separate-it thing, and totally forgot to add it. We figure with that and the basil, this would be a fantastic dish!
I have an entire bowl of it still in the fridge that may or may not get eaten, but seeing how easy it really was, and how awesome it could potentially taste, I know I'll be trying it again in the future!
__________________________________
Things I'm thankful for:
1) A husband and daughter that don't complain when I decide to cook new things.
2) Access to recipes and ingredients that I never would have used/tried before.
3) Good friends to spend tomorrow afternoon with - Geaux Saints!
4) My sisters.
5) My mom.