We've had a pretty exciting last week around here, and a few new things have happened to the Wee One!
First, and most notable, she cut her hair. Well, actually her bangs, but of course it was right in front and she scalped herself. She didn't touch the back, but I think it's because it was up in pigtails (even though part of me wishes she had attacked it - there's plenty to work with there!) When I asked her why, her response was "Cause they were in my face!" I don't think she'll have to worry about that for awhile!
Aren't those just the prettiest bangs ever?!?! ;)
Also, we had our first visit with a new dentist. His name is Dr. Cook, and she absolutely adores him! His office is a kid's dream, and the child racked up when she came out. She had about half a dozen stickers, a bag with toothpaste, pink mouthwash, dino flossers and a pink Ariel toothbrush, and a purple ring with a pink jewel and sparkles. The bad news was that she has 4 cavities (Mommy has been doing a really bad job at making her floss), but they said that she was an excellent patient. She went back there like she had known them forever, and they were nice enough to treat her, and also JoJo. She also found out that she has two loose teeth, and has spent the last week wiggling one of them. The child can't wait for the tooth fairy to come, and now I have to decide if the tooth fairy is going to bring money or small gifts. It's getting so close to coming out, and I noticed today that there's another one pushing through right behind it.
On Friday she got to go to the skating rink with her class. She did so much better than I thought she would, and absolutely loved it! I even got out there on skates, too, and did better than I thought *I* would.
After the party I took her out to lunch, then we visited the college that I went to. She loves drawing, and it was so nice to get to show her some real art supplies and a real art department. She wanted to touch everything, and kept asking about the paint and easels that we saw. We also saw a few of my old teachers, and they seemed to enjoy talking to her as well. I even took her into the gallery, which may have been a little much for an overly tired 5 year old, no matter how much she likes art! I'm looking forward to redoing her bathroom, because we're going to let her do the artwork for it. I'm sure it will look like all the princesses she's been drawing, but that's just fine with me. I mean, how cute would it be to have a bathroom decorated like this??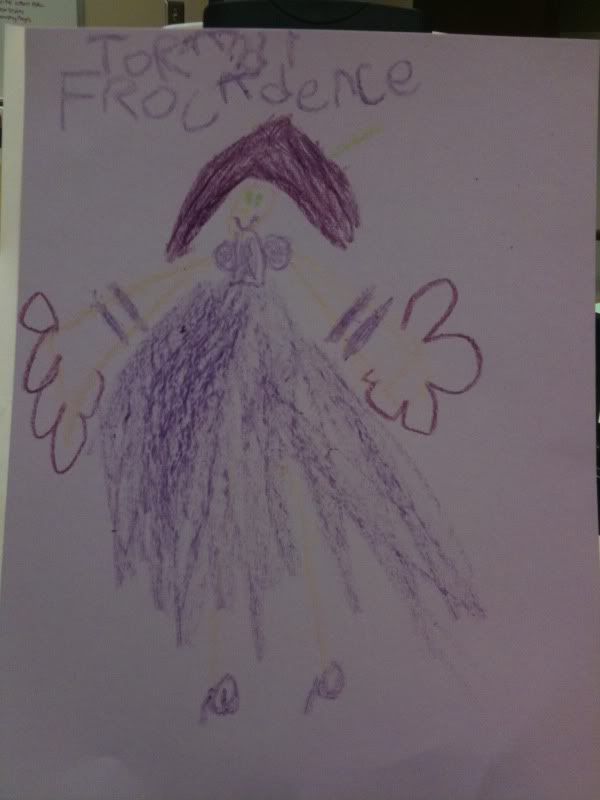 (that's me as a princess, btw)
She's also started writing sentences at school, and her teacher lets them have "creative spelling." I know that it's to help them learn to sound out words, but I think she knows that the moms love stuff like this! Today's sentence was "February is the sekn mof of the yir." I know I'm a sap, but seeing that written in big, block, pencil letters is about the coolest thing ever!
And the most depressing update, I called today about Kindergarten registration. I can't believe she's old enough to be doing this already! This means a real school bus, and no more lunches together every day, and no more baby girl! She's thrilled, but I think I'm going to cry. I've never wanted to homeschool so much in my life, even though I *know* the time apart is vital for both of us. As much as I love her, we're like oil and water if we're together too long (like all day, every day!) But man, am I going to miss seeing her for lunch and having her in my office in the mornings next year!
_________________________
Things I'm thankful for:
1) The tooth fairy, and the excitement she brings
2) Having a "little chef" in the kitchen to help
3) Having both a great dentist and pediatrician that she loves
4) "I love you" written in cute 5 year old handwriting
5) Being in a great school system