I promised pictures of our weekend in Memphis, and here they are. We left last Friday about 2:45 heading up, and arrived at Wolfchase Galleria about 6 pm to meet my stepmom. I had to run by the Disney Store to get some Disney Dollars for our trip in September, and my stepmom offered to get Wee One something while we were in there.
I was so proud of Wee One, because she picked out a Marie doll (little white cat from Aristocats), and kept saying she was fine with that, and didn't want anything else. I'm sure it's from me only letting her get something small if we go to the store, and if she finds something else, then she has to pick which of the two she wants. I finally had to pull her aside and tell her that I was very very proud of her for not asking and begging, but that Big Momma (my stepmom) wanted to buy her stuff - the doll *AND* something else. And if she saw something she wanted, she needed to tell her. She finally picked out a Tinkerbell dress and light up shoes along with the doll, and Big Momma got her some Disney Dollars and a bag for Disney as well.
Here are some pictures of the princess in the new dress, and of her with her Big Momma.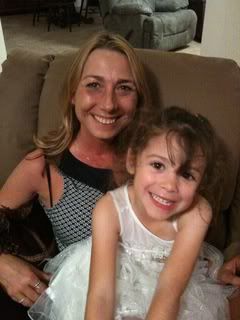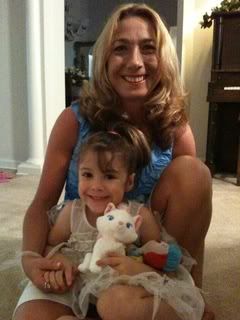 I love this picture because she's in her pink sparkly dress, but has bandaids on the knees and her feet (which you can't see) are filthy.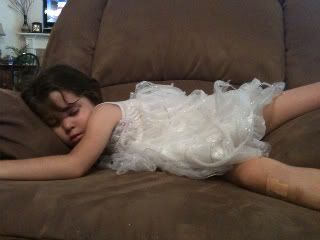 And this is a bonus sleeping pic. Notice her pillow is under her feet, and her blankets are all pushed to the side and almost off the bed. This is a very typical sleeping position for her!